Every month, we invite our members aged 18-30 to join us for a drop-in workshop. Sometimes these are led by the core Bubble team, other times guest artists deliver skills-based masterclasses. 
Past sessions have been facilitated by a range of theatre professionals, including:
This month's session led by Felipe Pacheco has been postponed to May 6th. All current bookings still valid and new bookings welcome!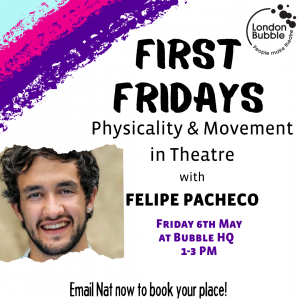 All sessions are FREE! If you are interested in the programme and would like more information, please contact marie@londonbubble.org.uk, with your name, age and which borough you live in.