We've just completed another successful weeklong project with The Prince's Trust.  Support Practitioner, Abena Obeng, shares her experience of delivering Get Started with Theatre for the first time since participating in it herself in 2018.

On Monday 28th November a group of 12 young people aged 18-25 arrived at Bubble HQ for Get Started in Theatre with the Princes Trust. This five-day programme enables participants to explore, through devising a brand new piece of theatre from scratch about topics important to them. The programme gives young people the practical tools and experience to pursue drama as a hobby or career and to perform for an invited audience. As well as collaborating and learning from working industry professionals in facilitation, lighting and set design. And if that wasn't enough, there is the opportunity to complete a Bronze Arts Award Qualification.
Despite a staggered start on day one, after lunchtime the group was ready to get stuck in, eager to learn and start creating.  A new activity called free writing was introduced to them. This is a technique where the author writes their thoughts quickly and continuously without worrying about form, style or even grammar. Choosing each of their favourite sentences from paragraphs starting 'Music feels like…' or 'If I was in charge for the day I would…' the group came together as a collective and began building a monologue meshing together everyone's prose. It was an amalgamation of feelings and reference points which joined to create a fantastic piece of work. Most participants had an 'aha' moment; a new exercise which initially felt strange, culminated in a moving piece of work. At that point, there was a joint realisation, that this would be a safe space to share and entrust vulnerabilities onto each other; thus an ensemble was formed!
A week is an extremely short time to devise a play, but when the subject is centred around what's important to the individuals themselves, the ideas come that much easier and we were able to produce a play that the young people were invested in. We encouraged the young people to bring themselves to the forefront; no idea would be considered silly or unable to be workshopped. Participants brought their own skills, writing a national anthem and designing a new royal coat of arms, which were both key features in the final performance. As well as discovering new skills and interests, one participant that opened the show found that they enjoyed writing more than they expected and wanted to continue doing so after the programme.
The overwhelming amount of talent in the room, compared to the time we had to create theatre meant many great ideas had to be left out of the final performance. This was a challenge because it meant needing to be extremely selective. It was not a question of good versus not good, but rather which scenes were easier to perfect, or better conveyed the message we wanted to share? When you've put your all into something, it's inevitable that you want every bit of that to be seen. However, the young people understood that refining is actually a crucial stage in devising, so whether ideas made it into the final performance or not, they were still valuable and just as important in the overall creative process.
At the end of each session, we would close the day with a group applause. Each member of the team were required to give their full attention, stay focused and become attune to the other members for clapping in-synch. It was a great way to bring the group together, respecting each other's availability and efforts in the space, and also to create anticipation for the next day and what new things would be created.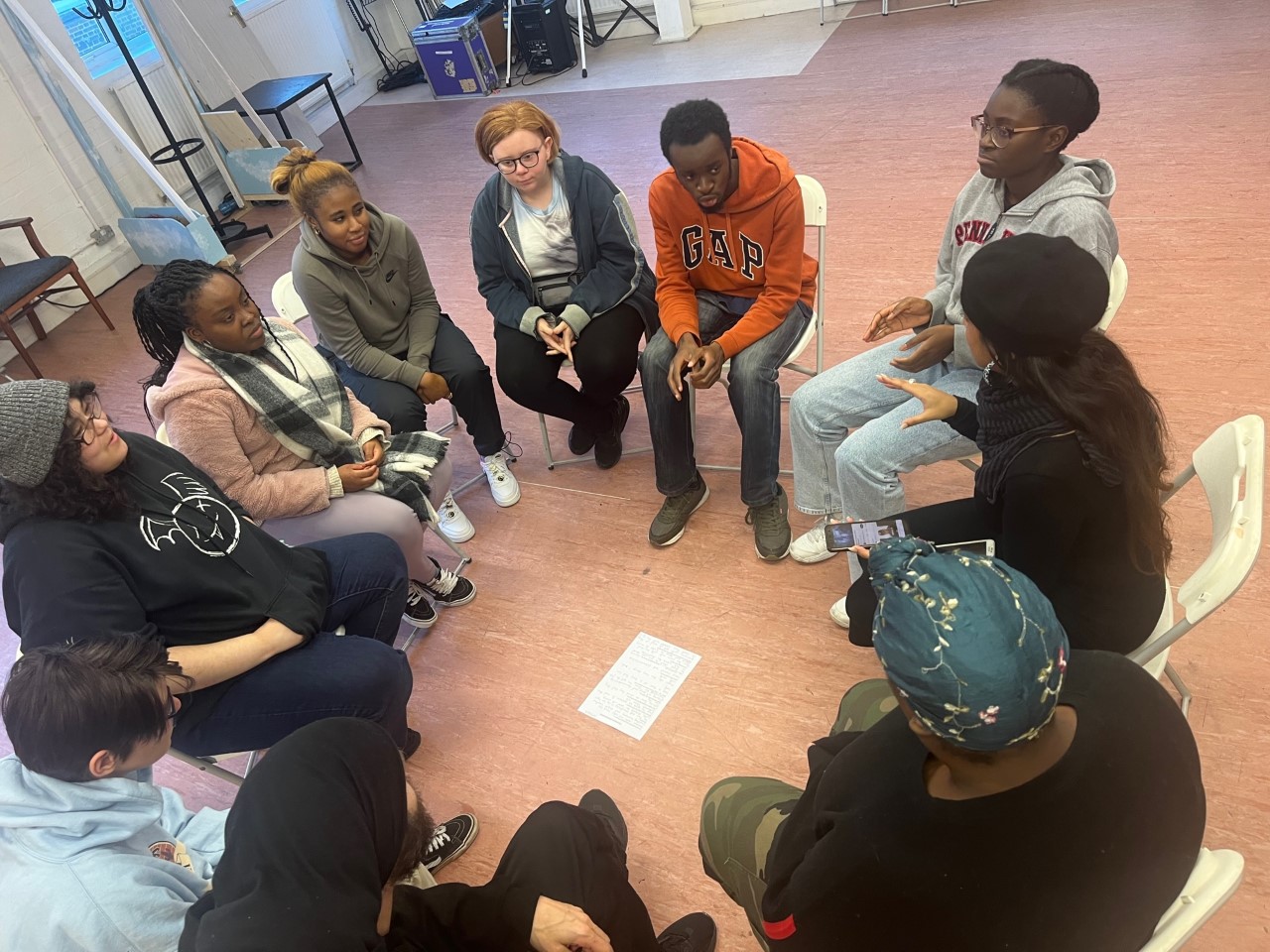 Having taken part in the programme myself in 2018 and now working as a facilitator on the programme for those coming up behind me, I recognise the big step it takes for a young person to enrol, where everyone comes from different areas in London and from completely different experiences. London Bubble was able to provide a space where for a week individuals could leave behind the outside world and enter a bubble where creativity and authenticity is championed. Participants could explore, learn, socialise and discover themselves anew. for me, programmes like this do not have a lifespan and are invaluable. Get Started in Theatre with the Princes Trust was so important for me in 2018 and still is now, for these young people in 2022.