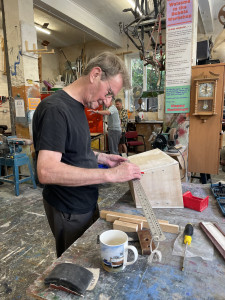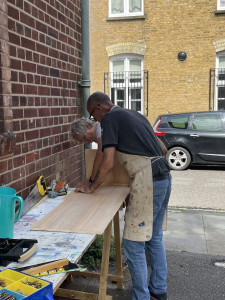 On Mondays and Thursday afternoons at London Bubble, the Rotherhithe Man takes centre stage on the car park, the doors to the workshop are flung open and the sandwiches are ferried in. The sounds of saws, hammers and gentle chatter illuminate the ground floor of Bubble HQ, and the place becomes alive with the members of The Rotherhithe Shed, faithfully led by facilitators Devon Goodrich and Michael Breakey. This August, Southwark Park Galleries will play host to an exhibition honouring The Rotherhithe Shed with an opportunity to hear the stories of the members and see their creations. There will also be the chance for guests to experience the magic of The Rotherhithe Shed themselves and get stuck in with some pop up Shed events.
The Shed was a movement that started roots in Australia, created to emulate "the Shed at the bottom of your garden". A place where older men who had reached retirement could come and use all the tools and machinery needed to complete a DIY project and connect with other men in their community. As The Shed movement spread across the world, 10 years ago it found a home at London Bubble's old theatre workshop in collaboration with neighbours Time and Talents.
Over the last 10 years, many members have come and gone, some have remained regular, and some have passed on. It's also evolved beyond the "men over a certain age" agenda, and everyone is invited to join. People arrive with something that needs making or fixing, in order to solve a problem in their lives. Whether that be to fix up a washing machine for a friend that needs one, make a custom frame for the many cross stich master pieces that have accumulated over the years, or create a netted frame to keep those pests out of the vegetable patch. A variety of projects can be found at The Rotherhithe Shed with all the members there to support in any way, whether that be with an idea, a skill or some enthusiastic encouragement.
The Shed solves so many more of life's problems too. According to the World Health Organization "social isolation and loneliness have a serious impact on older people's physical and mental health, quality of life, and their longevity." Many of London Bubble's programmes for Older Adults are designed to alleviate isolation, through providing a community. The Rotherhithe Shed manages this in its open, welcoming ethos regardless of workshop skills. As current member of The Shed, Ray says, "I come to the Shed and everyone's friendly and nice" Ray also discusses this idea of feeling useful. More than a space to connect with others, it's a place to come and share skills. The range of skills of the current members of the Shed include everything from builders, metal workers, teachers, artists and creators of "speculative objects". If you have an idea to execute but not the skills to do so, someone in the Shed is there to teach you their know-how. That's the beauty of The Rotherhithe Shed, it's a place to find purpose through sharing skills and collaboration.
A member of The Shed who sadly is no longer is with us came encouraged to do so by his wife, his wife said "Reg retired and just lost himself. He didn't move off the sofa most days. Once he found the Shed, it was like he had a new lease on life – it gave him purpose again…" the story of Reg is touchingly recalled within the exhibition by Devon who met him at a Shed Pop Up Event prior to Reg joining. Devon recalls how he came to the Shed "willing to share his skill" and took Devon under his wing. The gap between facilitator and participant closing, as is so often the case, in teaching we also get taught. According to therapist, Andrea Brandt, Community and Structure is something that one may find missing after retirement. This leads to that sense of despondency and aimlessness. But how do we find purpose? Or in fact repurpose?
Mick H, a current steadfast member of The Rotherhithe Shed found a way to repurpose an old Apple Computer by turning it into a piano stool, this piece features in the exhibition next month. Mick told me of his days of repurposing and fixing things that people threw away, he says himself "it's amazing what people throw away!". This mending skill is one that is lost upon many in an age of consumerism, once things are perceived to be broken, they are discarded instead of fixed. In an "Age of Waste" that we find ourselves, many have asked, including an exhibition at The Design Museum, how can Design solve the problems caused by an endless stream of consumerism that sees pollution, deforestation and habitat destruction. The members of The Rotherhithe Shed demonstrate one such solution: repair, recycle, repurpose. Each of their projects may feature one of these solutions. Whether that be recycling some wood into a frame, repurposing an old computer into a stool or repairing a wrought iron candle holder to its former glory. All these pieces feature in the upcoming exhibition.
But perhaps the most thought-provoking element of the upcoming exhibition is not just the variety of work and skill on display. The upcoming exhibition invites guests to challenge views on disability, ability, age and what art is. Each of these skilled craftspeople have created something that they themselves may not consider art. But this exhibition at Southwark Park Galleries honours their artistic integrity and unique creative ability that rarely gets the spotlight it deserves.
The artists of The Rotherhithe Shed have something to share with you, come and take a look.