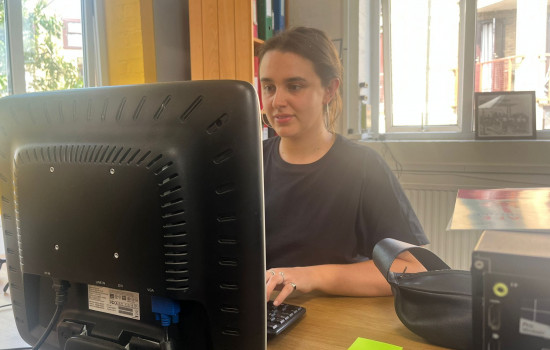 Today we caugt up with Development Manager, Elly Tindall; the newest addition to Team Bubble. 
What first attracted you to the Development Manager role here at London Bubble?
I had wanted to step into a part time role for a while to balance my freelance work and was really keen to see that Bubble offered that flexibility. I am also really excited by the work done here and wanted to learn more about participatory theatre.
What do you think about the rest of the Bubble staff/being an all-female team?
The team are great! I was given a mug with my name on it on my first day which really set the tone and made me feel less nervous. Everyone is very collaborative and welcoming which I love – it's felt really easy to settle in.
What has been the most challenging part of your job so far?
The arts funding climate is challenging at the moment so it feels like there's a hill to climb. But everything is moving in the right direction and I'm staying positive.
What has been the most surprising thing about being part of the Bubble team so far? 
Not to repeat myself but – settling in so quickly! Starting a job is normally really tough but it hasn't been here at all.
What are you most looking forward to this year at Bubble?
Getting to know the projects better & raising some funds.
Welcome to the team, Elly!