Through theatre, London Bubble engages with people whose stories, experiences and opinions are likely to go unheard or be underrepresented. The theatre we make recognises that we live in an unjust world but, despite different experiences, everyone has a story to tell.
Our story began in 1972 as a proposal by the Greater London Arts Association.  They recognised that outer London boroughs had no professional theatre of their own and local residents were unlikely to come into the centre of the city to access theatre.  Bubble was founded as an 'itinerant theatre company', specifically to tour to outer London boroughs.  The 'Bubble' was originally a polyhedral tent which 'popped up' in green spaces.  By appearing for a short time in their local park, the London Bubble encouraged people, who might not otherwise have the opportunity, to see theatre. We were a repertory theatre, meaning that the company performed a number of shows on rotation including Shakespeare, musicals and family shows.
Starting from a nomadic and outsider tradition of tent touring the company has always sought opportunities to meet people where they are.  There has always been a strong impulse to make theatre with people and Bubble's tours soon included opportunities to take part in making theatre too. 
In the mid-1980s Bubble took up residence in Elephant Lane, Rotherhithe. Its programming expanded to include long-term and short-term workshops, one-off events and performances throughout the year, alongside summer tours that had become a mainstay in the green spaces of several London Boroughs.
With Jonathan Petherbridge taking over as Creative Director from 1989, Bubble also became known for creating alternative pantomimes, staged in SE London.  An annual fixture for many people's winter calendar, the cast sometimes included community performers too.  By the mid-90s, we had also broken away from Bubble's tradition of performances within tents, instead establishing Bubble's reputation for promenade performances in parks.
At the same time, Bubble began running regular evening groups for adults and developed performances to tour to schools.  This meant that, beginning with Gilgamesh in 2000, Bubble could make large scale shows which included community performers.  The idea behind these productions was to unite the various aspects of the company's work into high-profile celebratory projects involving a large ensemble of participants of all ages, drawn from the communities of Southeast London.  They provided an opportunity for existing members from Bubble projects to work together, as well as an entry point for newcomers. These ensembles worked and performed alongside professional theatre-makers and toured to parks and woods across London.
2008 was Bubble's annus horribilis.  Around 75% of the charity's funding was cut and a fight for survival ensued.  Despite redundancies and a strategic re-think, Bubble innovated to survive including developing Fan Made Theatre (a crowd funding initiative before anyone knew what that was) and re-directing focus onto participatory drama projects in Southwark and Lewisham.
From this innovation, projects evolved which have come to form the backbone of Bubble's current work including Speech Bubbles in primary schools and Young Theatre Makers for 18–25-year-olds.  Exploring making large scale shows solely with community performers with a hyper-local focus saw Bubble create shows including Blackbirds and From Docks to Desktops which explored the changing nature of the area we had made our home.
In the 2010s we became the only theatre company in the UK to work with residents of sheltered housing units aged 55+. Our work with young people expanded to include targeted projects for young people in the criminal justice and care systems and our Young Theatre Makers began to be receive commissions for plays about issues affecting young people to be performed at conferences, events and as part of training.
2020 saw another period of evolution.  As well as adjusting to lockdowns alongside everyone else and delivering our work in new ways, our Creative Director of 32 years, Jonathan Petherbridge, stepped down.  We also streamlined our projects into 3 age groups: children, young people and older adults.
Bubble embraced joint leadership for the first time with Lucy Bradshaw and Marie Vickers stepping up to become Co-CEOs.  In 2021 Speech Bubbles, which had become a social franchise, launched as an independent CIO with a nationwide remit. 
In 2022 we celebrated our 50th Birthday and rejoiced in being able to return to making theatre in person with a street party showcasing performances by our children's, young people's and older adult members.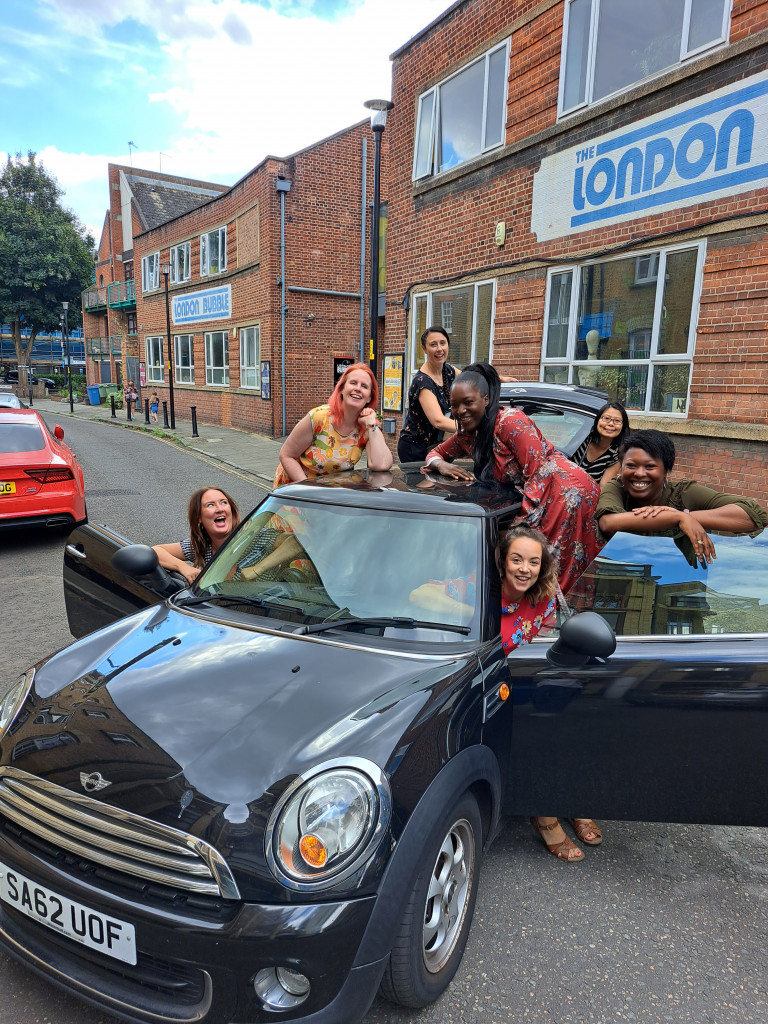 During our 50-year history we have taken theatre to every London Borough
We were the first company to bring Augusto Boal to the UK to share his Theatre of the Oppressed practice
Return to the Forbidden Planet originated as a London Bubble show in our touring tent
Cardboard Citizens, Make Believe Arts and Speech Bubbles CIO all began life as part of London Bubble
Blenda Blethyn's first professional acting job was with London Bubble
1972 – 1975       Glen Walford
1975                     Peter Coe
1976 – 1979       Glen Walford
1979 – 1984       Bob Carlton
1984 – 1986       Bob Eaton
1986 – 1989       Peter Rowe
1989 – 2020       Jonathan Petherbridge
2020 – present   Marie Vickers