Although we have suspended all physical group sessions, meetings and activities at London Bubble and at the educational and community settings in which we normally work, we still have plenty of suggestions for getting creative and making theatre wherever you are! 
Speech Bubbles – Drama at School and Drama at Home!
We have three packs of fun drama games, compiled by Speech Bubbles practitioners, the first is designed for school staff to use with their social bubbles, the second two are for children and their grown-ups to use at home.
Drama at school
Drama at home
Drama at home 2
Twitter @londonbubble_ed
If you are a school and want to find out more about Speech Bubbles please e-mail adam@londonbubble.org.uk places for 20-21 school year now available.
Young Theatre Makers
Our Young Theatre Makers are taking part in Company Three's Coronavirus Time Capsule initiative.
Click here to see each week's time capsule video as they're published:
We might have to stay home but we won't stop being creative! Team Young Theatre Makers have set 30 days of creative challenges for everyone to have a go at:
10 days of creative activity     10 MORE days of creative activity     ANOTHER 10 days of creative activity
If you're inspired to share your challenge experiences, we'd love it if you could post them on social media and tag us in!
Twitter @Bubble_YTM           Instagram @bubble_ytm
If you have any queries or suggestions please email marie@londonbubble.org.uk
Weekly Drama Groups
Younger children might like to try some of the activities in our Speech Bubbles packs of games (download links above)
Teenagers might like to try some of our creative challenges for Young Theatre Makers (download link above)
For more drama fun, click here to visit Drama Geezers, a YouTube Channel with drama games by Bubble facilitators Paul & Simon.
If you have any queries or suggestions please email lucy@londonbubble.org.uk
Creative Elders Programme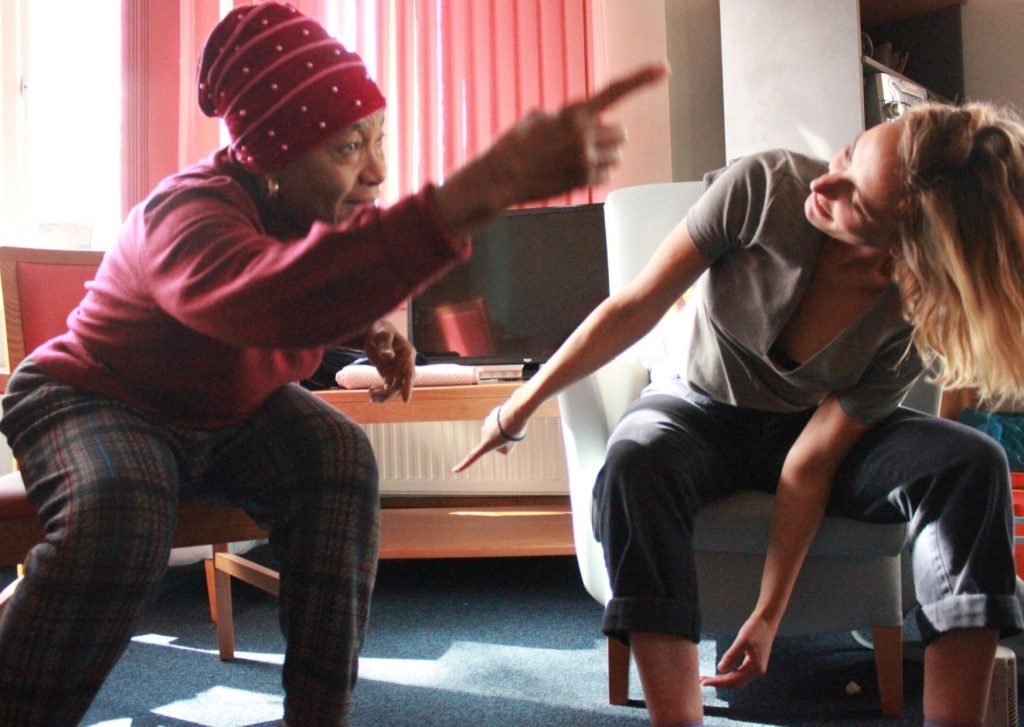 Inspired by the appearance of rainbows in people's windows around the world, the Creative Elders team have developed two booklets of creative exercises to do at home.
The first one is called Tatita's Rainbow.  But who is Tatita?
Find out by downloading the Tatita's rainbow e-booklet
It's companion is called Finding Umberto.  This can be used on it's own or alongside Tatita's rainbow.  Download Finding Umberto here
Thanks to our multi-lingual facilitators, Tatita's Rainbow is also available in Spanish and French.  Click on the links to download  El arcoíris de Tatita and L'Arc en Ciel de Tatita.
The booklets have been designed with our older participants in mind but the activities can be enjoyed by people of all ages and by families together.
We are encouraging people to share their creative explorations from the booklets with us.  When it's safe to do so, we hope to bring them together to celebrate!  You can share with us by emailing lucy@londonbubble.org.uk  posting your creations to Bubble HQ, 5 Elephant Lane, SE16 4JD or tagging us on Instagram, Facebook or Twitter.
Charting the Mayflower
Workshops are continuing online. See the groups latest films here.
Follow the project on Twitter @CtmLondonBubble
Events coming soon, check back here for updates!
If you have any queries or suggestions please email peth@londonbubble.org.uk
In light of the worldwide Coronavirus outbreak, we recommend you check the World Health Organisation's website for the most accurate information as the situation progresses. Please also keep up to date with government guidance on social distancing for everyone in the UK. Take care and stay safe.
Team Bubble
x